Description

Telstra Network Termination 525/00043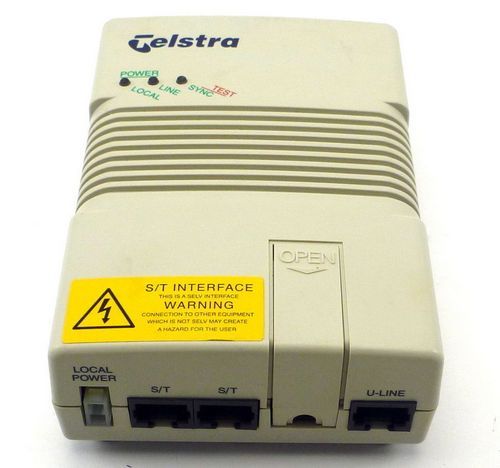 The Network Termination 525/00043 (NT1) is a basic rate (2B+D) ISDN device that terminates the exchange line in the customer's premises and interfaces with the customer's Terminal Equipment (TE). 
Direct connection of customer's TE can be made using the two 'S/T' ports.  Alternatively, up to eight items of ISDN terminal equipment can be connected via an S-Bus wired to one of the 'S/T' ports.
Features:
Apart from the 240V Plug Pack, connections use the standard RJ45 plugs and sockets. The U line can also be hardwired to the screw terminals on TB1. The 4 DIP switches used for setting the NT1's internal Terminating Resistors (TR) are located under the removable cover. The fifth switch is used to set Fixed or Adaptive timing.
We recycle, refurbish & remarket all used telecom equipment, business phones and accessories & associated parts. All leading brands are stocked or sourced for you! All products are professionally cleaned, tested and refurbished to the highest standard to be as good as new for you. We stand behind our refurbished products, offering you a money back guarantee with 6 months warranty.