Description

Polycom VVX 500 Business Media Phone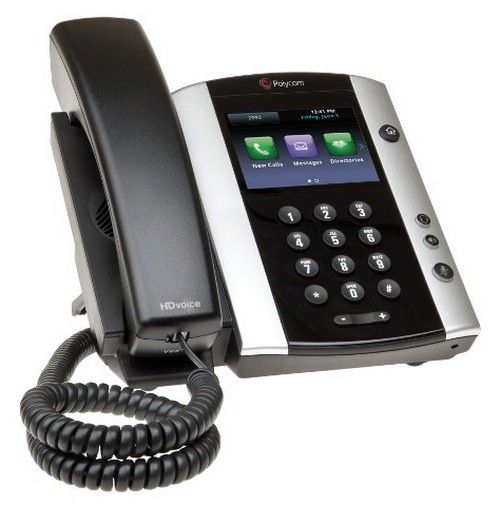 The Polycom VVX 500 business media phone is designed for today's busy managers and knowledge workers. It is a powerful yet intuitive office phone that can keep up with their multitasking and schedule juggling. Designed for a broad range of UC environments, the VVX 500 improves productivity through a touch-screen interface. It also serves as an application platform that complements the applications on the user's computer. Polcom VVX 500 supports expansion modules for applications such as personal videoconferencing and wireless networking. It is easy to deploy and manage with an enterprise-grade configuration method, so administrators can easily provision and maintain handsets throughout the enterprise. Designed for enhanced interoperability, Polycom VVX 500 leverages your existing IT investments by integrating with more IP PBX systems than any other business media phone in the industry.
Power Supply NOT Included
Features:
3.5" (9-cm) TFT (320 x 240)
Up to 12 line appearances
Immersive capacitive touch UI
Streaming media video playback
Video conferencing via external USB cam (coming post FCS)
Full Browser (Webkit)
HD Voice up to 14KHz on all audio paths (Speaker, Handset, Headset)
2 x Ethernet 10/100/1000
2 x USB 2.0 host
"Green" – low power
Hard Keys: 12-key keypad, home, speaker, mute, volume, headset
Supports expansion modules
Headset and Accessories: RJ9 wired headsets, Wireless connectivity via electronic hook-switch, read headset, Tech bulletin
Supports USB-wired headsets
Supports Wireless USB headsets
We recycle, refurbish & remarket all used telecom equipment, business phones and accessories & associated parts. All leading brands are stocked or sourced for you! All products are professionally cleaned, tested and refurbished to the highest standard to be as good as new for you. We stand behind our refurbished products, offering you a money back guarantee with 6 months warranty.