Description

Panasonic TDA30 with LCOT4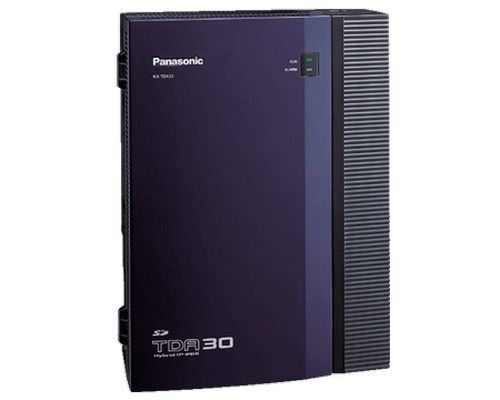 The KXTDA30 is a hybrid IP PBX system to fulfil customers requirements today and into the future. It can be configured to meet their present needs and expand as their applications grow or change.
The KXTDA30 is a next generation product, combining PBX reliability with IP technology offering efficient and flexible communication.
The KXTDA30 cost effectively bridges the gap between the telecom requirements today, and the demand for future integrated solutions.
Unit contains:
LCOT4: 4 port Analogue Trunk card
Features:
Maximum number of Simple Telephone extensions -24

VOIP compatible, enabling you to make maixum use of the existing network links between offices

and cutting call costs

Computer Telephony Integration (CTI) enables telephone system and PC to act as one co-ordinated

business tool

Flexible call ringing groups available

Integrating DECT cordless telephones ,deal with urgent calls as and when they are received
We recycle, refurbish & remarket all used telecom equipment, business phones and accessories & associated parts. All leading brands are stocked or sourced for you! All products are professionally cleaned, tested and refurbished to the highest standard to be as good as new for you. We stand behind our refurbished products, offering you a money back guarantee with 6 months warranty.