Description

Panasonic KX-NCP500 Pure IP-PBX
with IPCMPR Card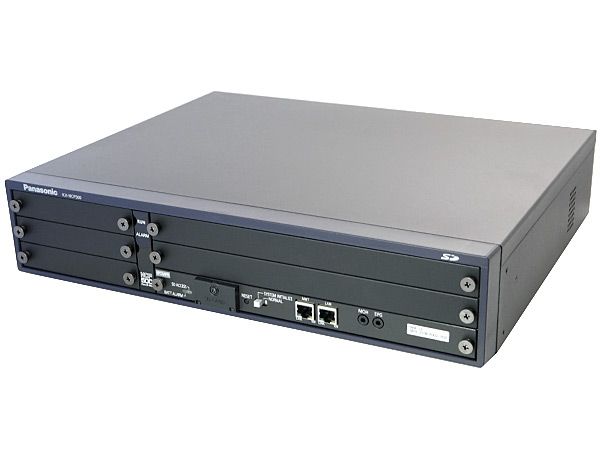 The VoIP PBX NCP500 phone system is a perfect fit for companies that would like to switch over to a pure Voice over IP telephone system. You may add up to 40 Panasonic VoIP NT300 Series Phones, or up to 32 SIP Phones. You may choose between the Panasonic HGT100 SIP Phone or Polycom SoundPoint IP Phones. This Panasonic PBX System is also compatible with the latest in wireless phone technology. If you would like to add mobile phones you can use the Panasonic DECT 6.0 Wireless Handsets with cell stations. the system will support up to 64 wireless phones and they look like cell phones. The Panasonic NCP System will also allow a company to further utilize Voice over IP with its use of the optional Voice over IP Gateway card. The Panasonic VoIP Gateway card will allow you to network multiple sites to share 1 voicemail through the Centralized Voicemail Feature, and allow one receiptionist to answer all calls, transfer them to the appropriate site and see whether or not a person is on the phone (network DSS buttons).
Features:
Direct Inward System Access with Outgoing Message (DISA with OGM)
Incoming Call Distribution
Uniform Call Distribution
Toll Restriction
Personal Speed Dial Numbers
Music or Message on Hold/ Background Music Inputs
External Paging Outputs
LAN Connection
RS232 Output
Ethernet Connection for CTI
Bluetooth Compatible Phones
Up to 30 Different Ring Tones
Call Forwarding
Conference Calling- 8 Parties
Hotel/ Motel Features
Off Hook Call Announce
Voice Mail Integration with Auto Attendant
Centralized Voicemail Option with KX-TVA Voicemail System
Works with KX-T7000, KX-T7200, KX-T7400, KXT7600, KX-T7700, DT300 Series Phones and Single Line Telephones
Compatible with NT300 Series, NT136, & NT265 IP Phones
Compatible w Polycom SoundPoint IP Phones
PC Based Programming
PRI/T-1 Interface
Caller ID Built in to All Lines
Call Logging- up to 100 Incoming and Outgoing Numbers
CTI Integration with Click to Dial from Outlook
Equipped with an MCPR Main Processor Card (No other cards included)
We recycle, refurbish & remarket all used telecom equipment, business phones and accessories & associated parts. All leading brands are stocked or sourced for you! All products are professionally cleaned, tested and refurbished to the highest standard to be as good as new for you. We stand behind our refurbished products, offering you a money back guarantee with 6 months warranty.