Description

Mitel MiVoice 5360 IP Phone with Wireless Mod, Headset and Bluetooth Handpiece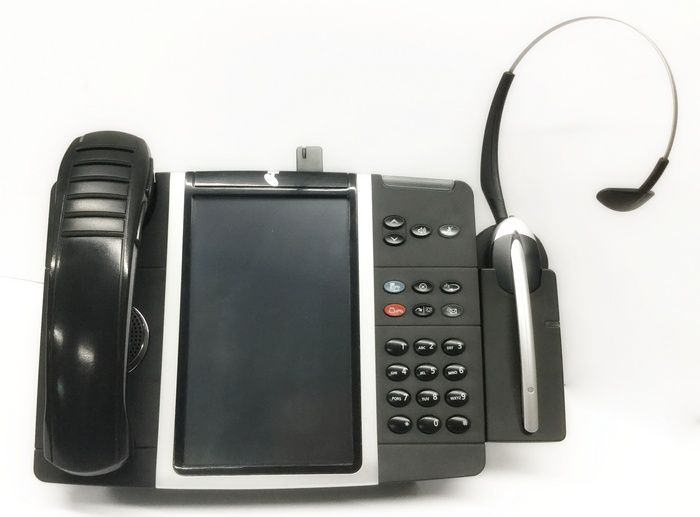 The Mitel MiVoice 5360 IP Phone is ideal for any enterprise executive or manager, teleworker, or contact center supervisor. It is an executive class desktop device that provides a large color backlit touch display to graphically deliver rich applications to general business or across multiple vertical market sectors. The 5360 IP Phone delivers easy-to-use, one-touch access to many phone features and applications. The 5360 IP Phone features 48 programmable self-labeling keys, six intuitive call-state sensitive softkeys, superior sound quality, and a built-in HTML Toolkit for desktop applications development. Equipped with a Gadget Sidebar, the seven-inch display enables one-touch access to embedded or internet-based content and applications.
Cordless accessories module
Features:
Seven-inch, backlit, high-resolution (800 pixels × 480 pixels), color, touch-screen display with brightness controls

Touch-screen access to features and applications

48 programmable, multi-function, self-labeling keys

Six context-sensitive softkeys for intuitive access to features and functionality

10 fixed function hard keys: hold, menu, message, speaker, mute, transfer / conference, redial, cancel, volume / ringing / contrast up and down

Wideband-audio ready – hardware ships with a wideband handset (7 kHz) standard

Embedded Gigabit support

Gadget Sidebar provides one-touch access to embedded applications

Supports Mitel Unified Communicator Express (UCX), Mitel MiCollab Client (formerly Mitel Unified Communicator Advanced) and Mitel Live Content Suite

Extensive support for peripherals and modules: Cordless (DECT) and Bluetooth Accessories, Line Interface Module, and MiVoice 5610 DECT Stand

HTML Desktop Toolkit support for applications development

Handsfree speakerphone operation (full duplex)

Supported on the MiVoice Business (formerly Mitel Communications Director) and MiVoice Office (formerly Mitel 5000 Communications Platform)

Designed for power conservation: reduces power consumption for overall energy saving Secure voice communication enabled by encryption
We recycle, refurbish & remarket all used telecom equipment, business phones and accessories & associated parts. All leading brands are stocked or sourced for you! All products are professionally cleaned, tested and refurbished to the highest standard to be as good as new for you. We stand behind our refurbished products, offering you a money back guarantee with 6 months warranty.