Description

KONFTEL 300WX with IP DECT 10 Conference Combination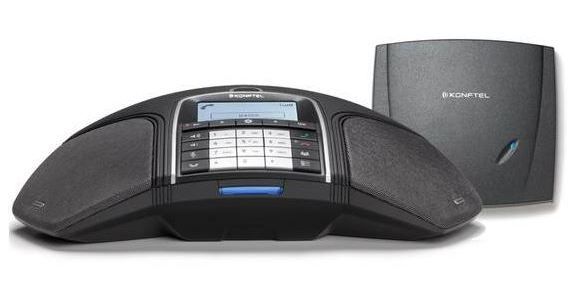 Freedom of wireless connectivity combined with superior audio quality. That's what you get from the Konftel 300Wx when it's connected to IP telephony with HD audio via Konftel IP DECT 10. Give your conference calls all the dynamism they deserve! HD audio produces much more natural sounding speech than the sound you get with conventional phone calls. It picks up tones of voice and nuances, making conversation more fluid. It is now possible to take the HD calls on your IP telephony into wireless conference calls. Konftel's DECT base station, IP DECT 10, is connected via SIP and can have up to 5 HD-capable Konftel 300Wxs registered and five simultaneous calls. It is possible to set up the Konftel 300Wx with IP DECT base stations provided by third-party manufacturers supported by Konftel. However, Konftel IP DECT 10 offers some unique advantages and makes it simple to get started.
Includes:
Konftel 300WX
Rechargeable battery
Konftel IP DECT 10
Konftel charging cradle
USB-cable
Power cable
AC adapter
Features:
OmniSound®.
Microphone Omnidirectional, 360˚.
Frequency bands – DECT 200-3300 Hz, CAT-iq 200-7000 Hz, USB 200-7000 Hz.
Reception area: up to 12 people (30 m2/320 sq ft).
Volume: Max 90 dB SPL 0.5 m.
Equalizer: soft, neutral and bright.
Konftel 300WX: Size: 240 mm, height 77 mm
Konftel DECT Base: Size: 118 x 177, height 32mm
Konftel DECT Base: 20 users (20 handsets registered)
Network:
TFTP, HTTP, HTTPS for remote configuration and firmware download
VLAN
DHCP options 66 and custom
Embedded web server for easy configuration
IPv6
SRTP and SIPS support using certificates
Connector: RJ 45
Interface to IP network: 10/100 BASE-T IEEE802.3
We recycle, refurbish & remarket all used telecom equipment, business phones and accessories & associated parts. All leading brands are stocked or sourced for you! All products are professionally cleaned, tested and refurbished to the highest standard to be as good as new for you. We stand behind our refurbished products, offering you a money back guarantee with 6 months warranty.