Description

Cisco Linksys SPA942 IP Telephone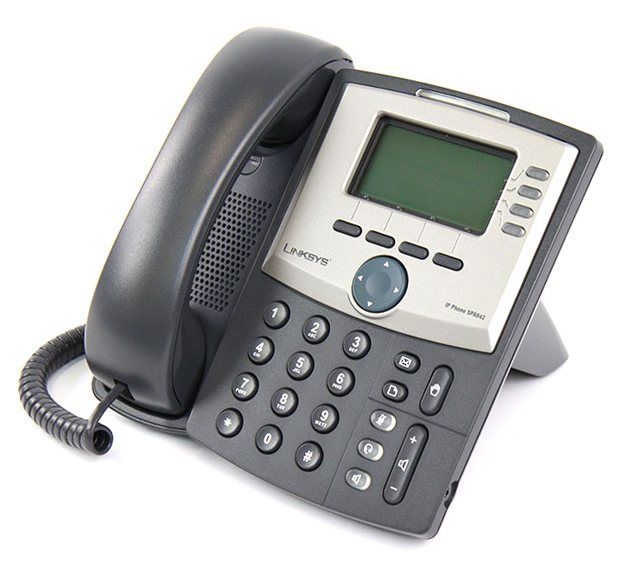 Stylish and functional in design, the Cisco SPA942 4-Line IP Phone with 2-Port Switch is ideal for a residence or business using a hosted IP telephony service, an IP private branch exchange (PBX), or a large-scale IP Centrex deployment. The Cisco SPA942 uses industry-leading voice over IP (VoIP) technology from Cisco to deliver an upgradeable high-quality IP phone that is unparalleled in features, value, and support.
Based on the Session Initiation Protocol (SIP), the Cisco SPA942 has been tested to ensure comprehensive interoperability with equipment from VoIP infrastructure leaders, enabling service providers to quickly roll out competitive, feature-rich services to their customers.
(Power Supply Not Included)
Features:
Up to four lines with independent configuration and registration
Active line indication, with name and number
Menu-driven user interface, with support for multiple languages
Digits dialed with number auto-completion
Shared line appearance
Full-duplex speakerphone
Call hold
Music on hold
Call waiting
Caller ID name and number
Outbound caller ID blocking
Call transfer – attended and blind
Call conferencing
Automatic redial
On-hook dialing
Call pickup – selective and group
Call park and retrieval
Call swap
Call back on busy
Call blocking – anonymous and selective
Call forwarding – unconditional, no answer, or busy
Hot line and warm line automatic calling
Call logs (60 entries each) – calls made, answered, and missed
Redial from call logs
Personal directory with auto-dial (100 entries)
Do not disturb (callers hear busy signal)
Uniform Resource Identifier (URI) (IP) dialing support (vanity numbers)
On-hook default audio configuration (speakerphone and headset)
Multiple ring tones with selectable ring tone per line
Called number with directory name matching
Call number using name – directory matching or via caller ID
Subsequent incoming calls with calling name and number
Date and time with intelligent daylight savings support
Call duration and start time stored in call logs
Call timer
Name and identity (text) displayed at startup
Distinctive ringing based on calling and called number
Speed dialing
Configurable dial/numbering plan support (per line)
Intercom and group paging
DNS SRV and multiple A records for proxy lookup and proxy redundancy
Syslog and debug server records (configurable per line)
Report generation and event logging
Statistics transmitted in BYE message
Secure call encrypted voice communication support – SIP over Transport Layer Security (TLS), and Secure Real-Time Transport Protocol (SRTP)
Built-in web server for administration and configuration with multiple security levels
Automated provisioning, multiple methods – up to 256 bit encryption (https, HTTPS, Trivial File Transfer Protocol [TFTP])
Asynchronous notification of upgrade availability via NOTIFY
Nonintrusive, in-service upgrades
Optionally require administrator password to reset unit to factory defaults
We recycle, refurbish & remarket all used telecom equipment, business phones and accessories & associated parts. All leading brands are stocked or sourced for you! All products are professionally cleaned, tested and refurbished to the highest standard to be as good as new for you. We stand behind our refurbished products, offering you a money back guarantee with 6 months warranty.