Description

ALCATEL 1642 Edge Multiplexer Compact (EMC) Switch with ISA-ES1 8FE Module Rack Mount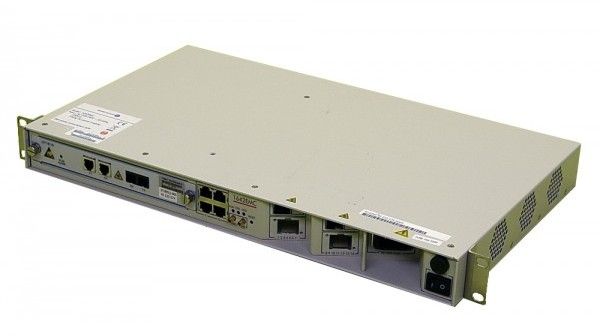 The Alcatel-Lucent 1642 Edge Multiplexer Compact (EMC), part of the Optical Multi-Service Node (OMSN) family, is an ideal space-saving, next generation, multiservice building block for CPE and access layer applications in the metropolitan and enterprise network. Due to the super compact mechanism design (1U height), the product offers customers space and power consumption savings as well as significant cost savings.
The 1642 EMC is designed to handle network access, CPE applications and enterprise implementations at STM-1 (155M) with aggregation features for low speed rate signals such as 2 Mb/s. The 1642 EMC is capable of handling data scenarios and supports a maximum of three STM-1 (155M) interfaces plus 14 x E1, offering service providers a flexible solution to meet the increased interface requirements for metro access, CPE, and enterprise premise applications.
Features:
Full compatibility with installed base; it enables Ethernet service extensions over first generation SDH networks

Cost-efficient delivery of TDM and Ethernet services to large and medium enterprises

Reduced OPEX: simplified network operations and operators' staff training thanks to the unified network management system, which offers integrated end-to-end service management functions with the same look and feel for all transmission products

Optimized footprint and power consumption

Comes with ISA-ES1 8FE Module Rack Mount
We recycle, refurbish & remarket all used telecom equipment, business phones and accessories & associated parts. All leading brands are stocked or sourced for you! All products are professionally cleaned, tested and refurbished to the highest standard to be as good as new for you. We stand behind our refurbished products, offering you a money back guarantee with 6 months warranty.